Never start with your logo: how to build a powerful and solid brand
#Branding
#Marketing
#Tips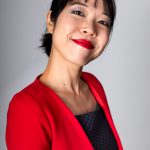 By Taehee Kim Verney-Carron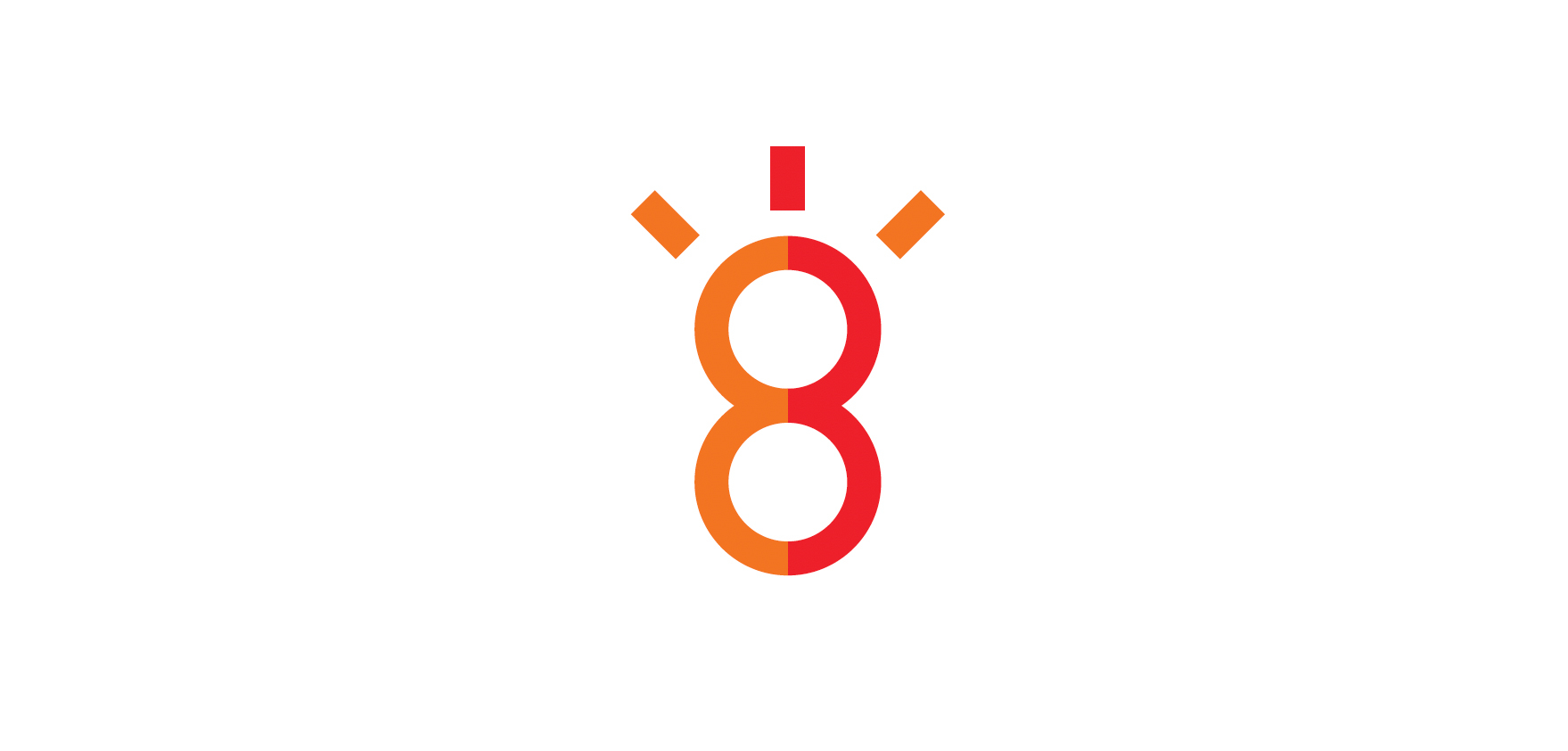 After publishing our article "Branding VS marketing: the difference explained," we received a lot of enthusiastic messages from our fellow professionals working in the field of brand strategy.
It's mainly because in that article, we promised we'd come back to this topic, "logo design ≠ branding." It seems to have triggered their desire to express their cumulated frustration.
Oh, yes, we hear that misconception a lot (from our clients/bosses)!
Go, go, go! Please speak up on why one should NEVER jump right into design.
Indeed, our experience as a branding agency makes us believe that many, many people have a misconception about "logo design." They think that "logo design" and "branding" are the same thing. We often see these two terms being used interchangeably and have even come across some courses about branding that only talk about logos, fonts, and color choices.
It's completely wrong.
We don't want to sound too brutal, but we have to tell you the truth. It is wrong.
While many graphic designers know that a brand strategy should be defined before any images, symbols, or other elements of visual storytelling are created, some design and communication agencies have helped spread this false notion that branding is equivalent to visual design.
Why? Because that's where their business is.
Also, many clients want it this way. Some of them don't know what branding is really about and don't want to bother with it. Plus, design is the most exciting part of the work for many clients.
I like it.
I don't like it.
All they're asked to do is express their personal preferences. And maybe ask other people around, "what do you like the best among these design options proposed by our agency?"
Once again, we have to tell you the truth: if anybody understands the value of a well-established brand, they should know that this is not how they're going to build one.
In this article, we'll explain why companies should never jump right into design – whether it's launching a new brand or reimagining an existing one. Also, as the key takeaways, you'll find effective brand building tips that will help make everything else easier and much more powerful – design, product development, marketing, sales, internal management, customer relations, talent acquisition, and more.

What is a brand?
A brand is an identity.
Your brand is the identity of your business, expressed to your target audience in a repetitive way. You build a brand by constantly and consistently communicating that identity to your target public (=branding). And this identity is shaped and reinforced by the characteristics, features, and benefits of your offer as well as the values, purpose, and vision that your organization stands for, expressed across your different customer touchpoints.
These can be the brand name, logo, products, price positioning, mode of distribution, your website and/or social media, and staff or organizational culture, to name a few.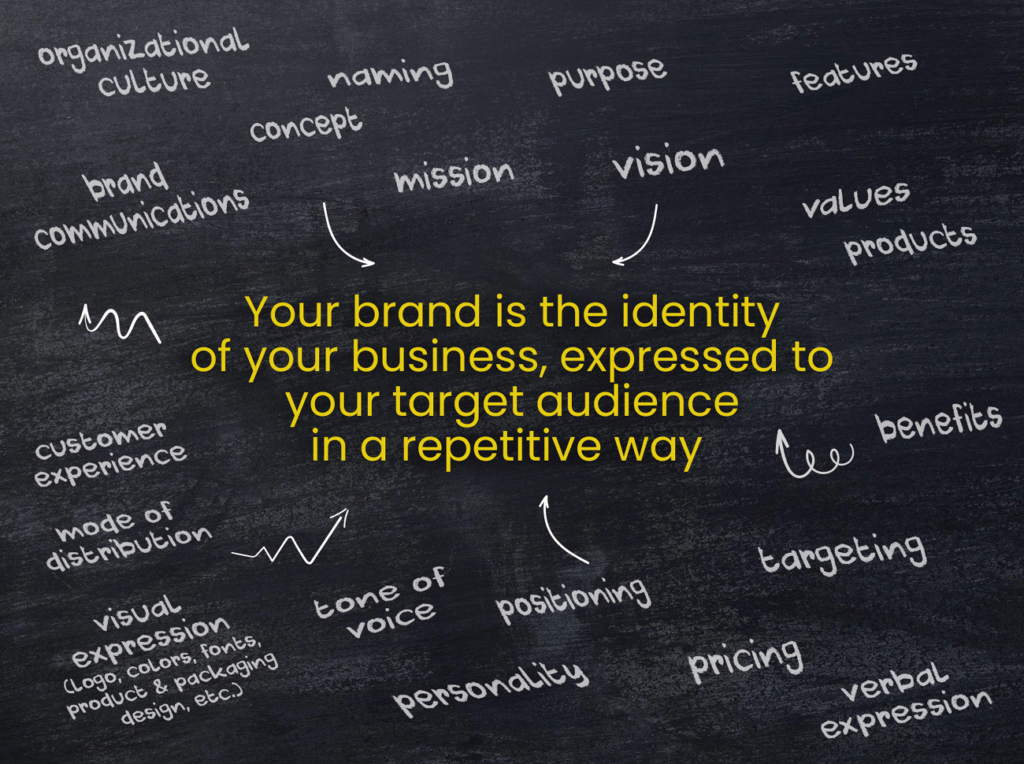 What is a logo?
While your brand is the identity of your business, its "visual identity" is literally the visual expression of the brand's DNA, personality, and singularity.
And your brand's logo is the essence of that visual identity, shown graphically in its simplest form.
That being said, it's important to point out that a logo is just "one" of the elements of branding.
For example, think about Apple. Its visual identity is not just its logo – it's also the design of its packaging, along with the whole visual experience it creates for customers in its stores, on its website, in ads, etc. Everything that constitutes Apple's visual identity is consistent. Go to any Apple store in the world, and you will know you are in one.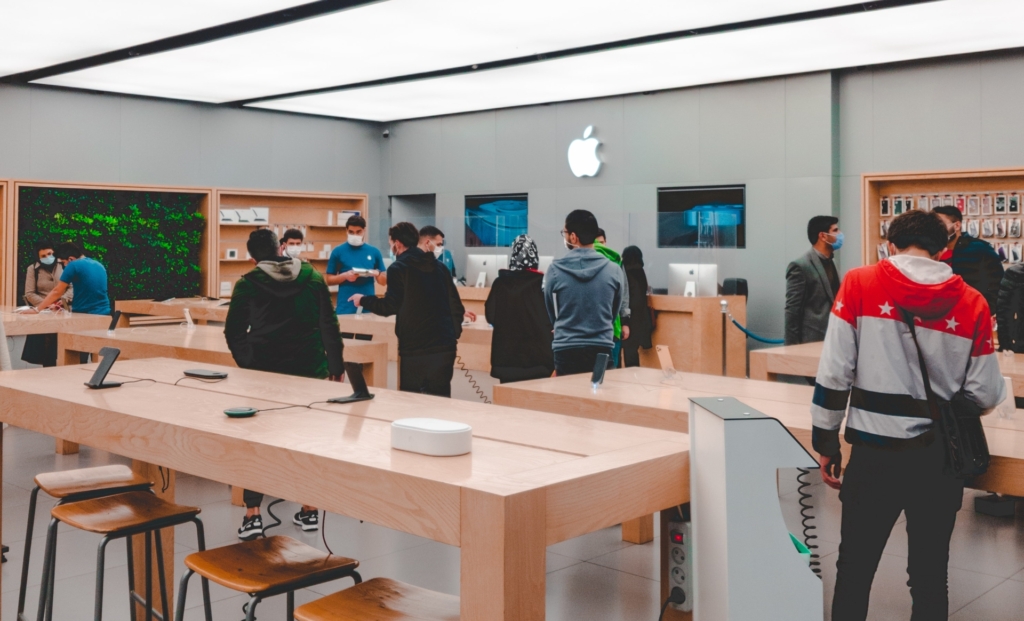 However, your logo is likely to appear on almost all the customer touchpoints of your brand.
Thus, a well-designed logo plays a vital role for a brand as it is the main visual element that is supposed to allow people to quickly identify an organization, its products, and services.
A logo is often a combination of typographies, graphics/symbols/monograms, and colors. Many brands adapt its use based on the touchpoint, though. Sometimes they just use the symbol or logotype alone and sometimes all together.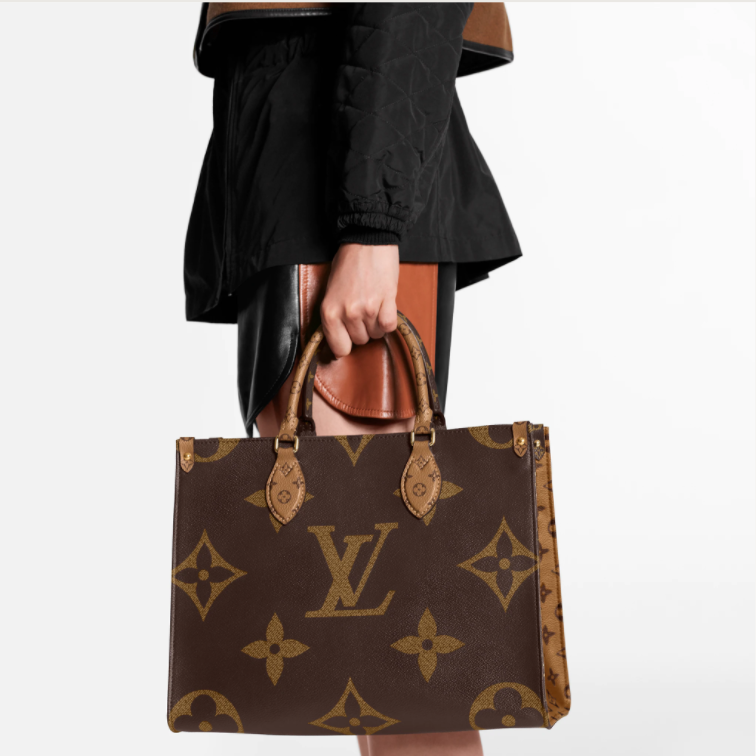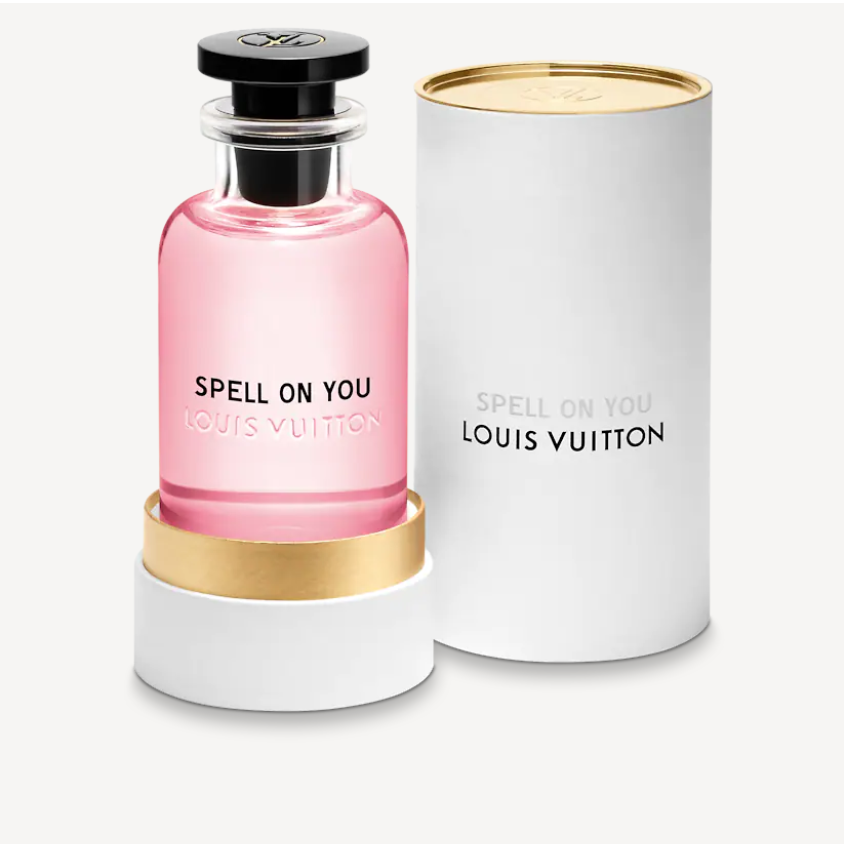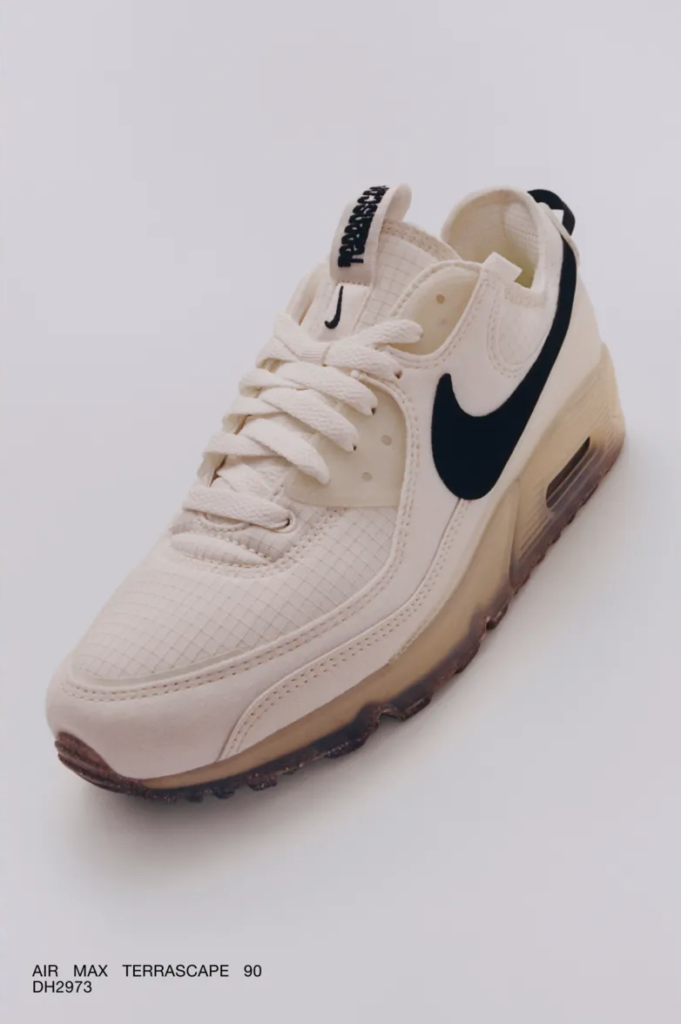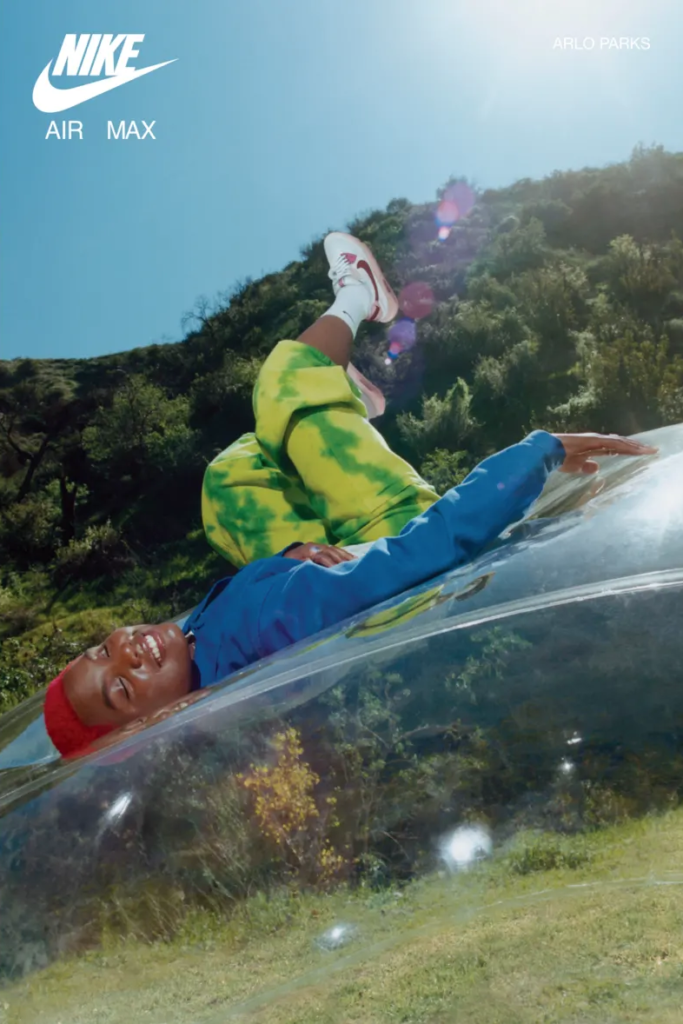 Image source : eu.louisvuitton.com, www.nike.com

Your logo is the face of your business
Let's put it this way. Think about a person.
What would make up her identity?
Her genetics, her upbringing and experiences, the education she's had, what she's good at, her personality, beliefs, vocation, interests, voice, tone, attitude, physical traits, how she styles/dresses herself, etc.
You can compare a logo to a face. While a face can't communicate someone's entire identity, it's often the first and most important element when it comes to identifying that person.

Why you should never start with your logo
We explained above why visual design should be a reflection of your brand's unique attributes, and also discussed the importance of having a well-designed logo.
Defining what makes your brand unique and different (positioning) and who needs or would be interested in what your brand has to offer (targeting) requires a lot of work on strategy.
Who are your target customers?
Why should they buy from you instead of your competitors?
How are you going to reach them? With what message?
What perception are you trying to create?
Having clear answers to these foundational questions before you spend a single cent on design will not only save you thousands of euros but will also enable you to create a visual identity and logo that captivate and engage the right audience with the right message.
Why?
Because your answers will define your positioning strategy. And this strategy should dictate the design of your brand. Anything visual (shapes, colors, fonts, images, etc.) creates emotions. You don't want to give your target audience the wrong perception of your brand by evoking the wrong emotions, do you?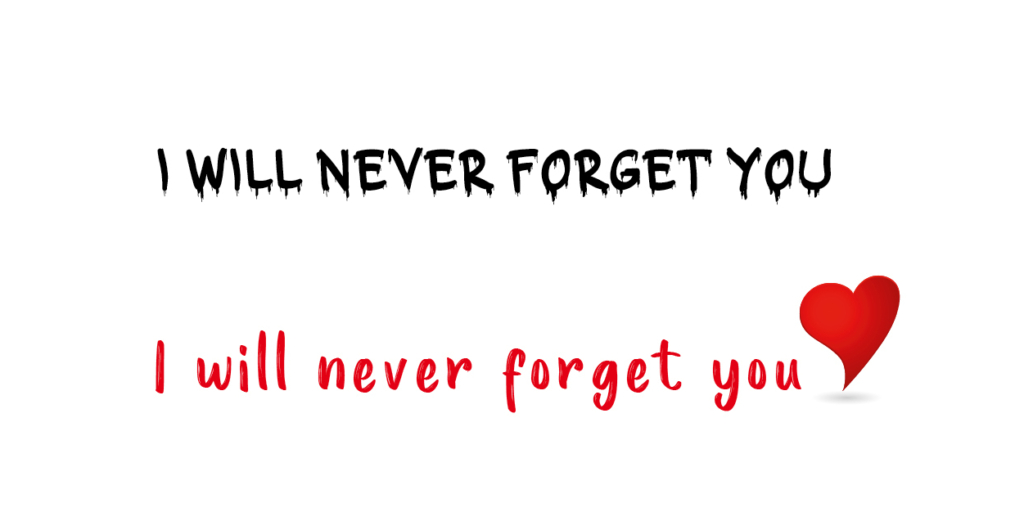 In other words, you will be able to engage your target customers much more effectively and grow your business much more efficiently if you work on your brand strategy first before jumping right into design.

A killer method that will save you time and sanity (and guarantee great results)
At Making You Smile, we start by defining the following six key branding elements with clearly worded statements in order to bring clarity to your brand vision.

Value proposition (no more than three lines)
Ideal customer profiles
Brand positioning (in just a few words)
Brand purpose
Core values
Brand personality, tone of voice, and style

One page is sufficient. Once all this is clarified, simplified, and written on a single page, it can be used to brief any design or brand communications service providers.
With this method, it's much easier to maintain brand consistency across different customer touchpoints.
Also, you'll be able to stop making decisions based on your personal tastes, "I like it. I don't like it." Instead, you'll be empowered to make decisions based on what works better and what does not. It's because, thanks to this clarity brought to your brand strategy, you'll know exactly what perception your brand should create in order to always stay aligned with your pursued positioning and engage the right people.
We won't lie. To reach this level of clarity and simplicity, it takes significant energy, time, and other resources. But all the effort and investment put into articulating your brand strategy upfront will certainly end up paying off.
It will save your team an unimaginable amount of time in making the right decisions and conducting the daily operations aligned with your company's goals, as your brand is the reflection of your business strategy and vision.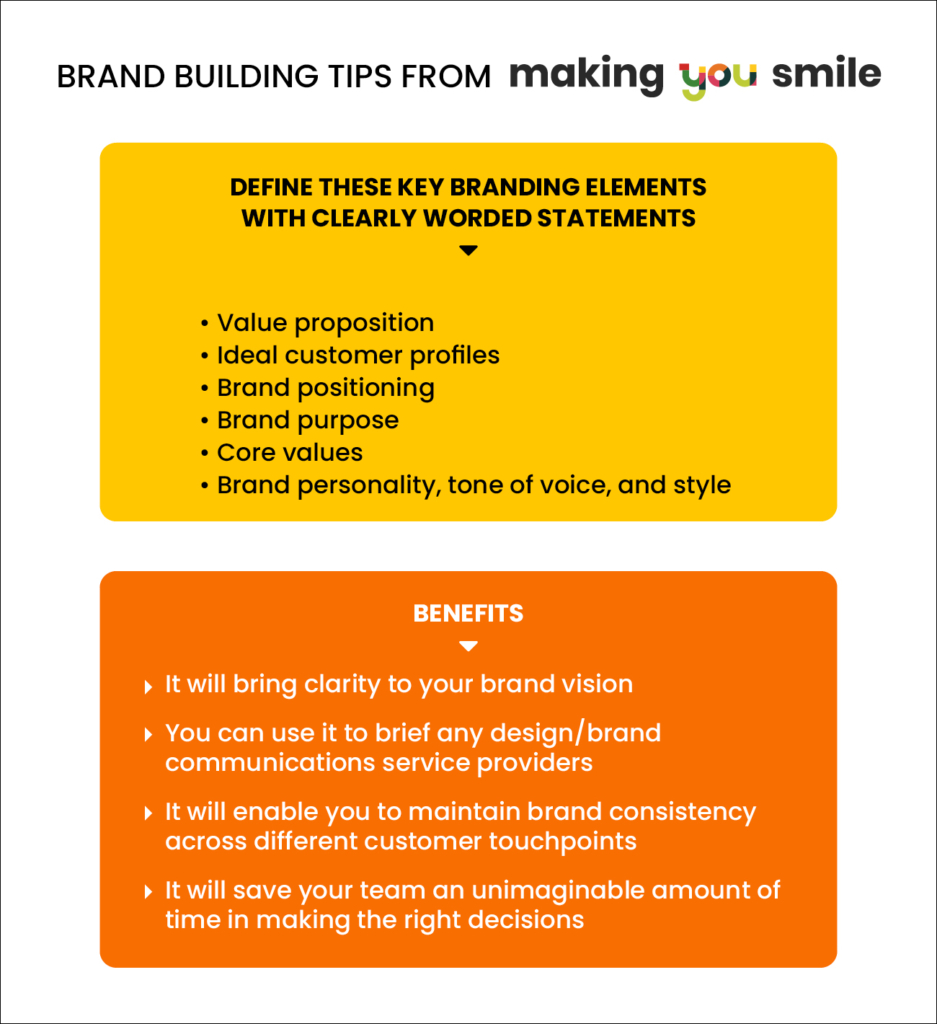 Conclusion
In a nutshell, a brand is built when an organization constantly and consistently communicates its identity to its target audience. And this identity is shaped by many different tangible and intangible elements that the organization offers, presents, and stands for. A logo is one of those elements and plays a crucial role by visually representing the core message that the brand constantly conveys to its target audience.
It is great to have a good-looking logo, but it will be truly effective only once it's designed based on a clearly defined brand strategy.
It is because it's impossible to keep the clarity and consistency that you need to engage the right audience across your different customer touchpoints, including your logo, unless you lay a solid foundation first.
Never start with your logo. Begin with your brand strategy instead. Make sure your uniqueness is clear.
It will make everything else easier and much more powerful – design, product development, marketing, sales, internal management, customer relations, talent acquisition, and more.